The Moment Expands to the North
Songs of the Moment has been a series of vocal improv concert projects since 2008 and so far only within a Danish context. In this project, the Nordic outreach will be the center of the musical creation.
The Real Group, Rajaton & Voxnorth
The objective is to execute 3 inspirational meetings between 7 highly skilled singers in 2013. Each singer excels in performing arranged a cappella music in one of top perfoming a cappella groups; The Real Group (Sweden), Rajaton (Finland) or Voxnorth (Denmark). But each singer also has skills and a great interest in improvisation. With this project we want to meet in an open collaboration, allowing each singers individual background and tone to be heard, and to create a new musical universe based on a cross-over nordic sound.
Expanding a cappella and improv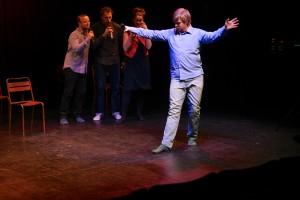 On a short-term level the outcome is to learn from each other by singing and sharing our knowledge and skills in the sessions. We will share and develop new approaches to creating 'music of the moment' and we will explore the nordic way and sound in doing so. First of all, we will meet in a broad-minded and exploring collaboration and we will bring home inspiration to our performing lives as well as our teaching. We all have base in the worlds choral and a cappella scene, and we are excited to develop the branch of improvised a cappella music as well as giving it back to the community.
World Class Nordic Collaboration
Our long-term goal is to become a world class improv ensemble, representing nordic vocal tone, innovative musical approaches as well as broad-minded collaboration with other world music genres.
Inspiring The North
Improvisation is a strong approach when facilitating a creative process as well as being an intriguing performing art. Our ambition is to become a leading and innovative ensemble in this field and to inspire other singers to be creative with their voices too.